1st Kato Polemidia 2008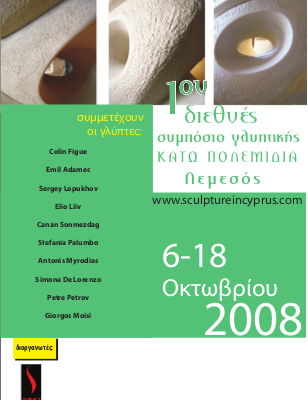 The 1st International Sculpture Symposium of Kato Polemidia, Limassol took place between 6-18 October 2008 with the participation of ten sculptors from Cyprus and abroad. The symposium was organised by the Polemidia Municipality, in collaboration with the Chamber of Fine Arts of Cyprus - E.KA.TE and with the artistic direction of sculptor Christos Lanitis, AIESM Manager for Cyprus, organized the 1st International Sculpture Symposium.
Among over 600 reached projects, a local jury, selected for the participation to the symposium of Kato Polemidia the following artists: Colin Figue - England, Emil Adamec - Czech Republic, Sergey Lopukhov -Russia, Elio Liiv - Estonia, Canan Sonmezdag - Turkey, Stefania Palumbo - Italy, Antonis Myrodias - Greece, Simona De Lorenzo - Italy, Petre Petrov - Bulgaria, Giorgos Moisi - Cyprus.
Event Gallery
Artist And Sculptures